Update 18-12-2020 (12:15) 
Apparently CD Projekt Red wanted Sony to remove Cyberpunk 2077 from the PlayStation Store. A recent post from the Polish developer mentions the decision and their reason for removing the game from the platform.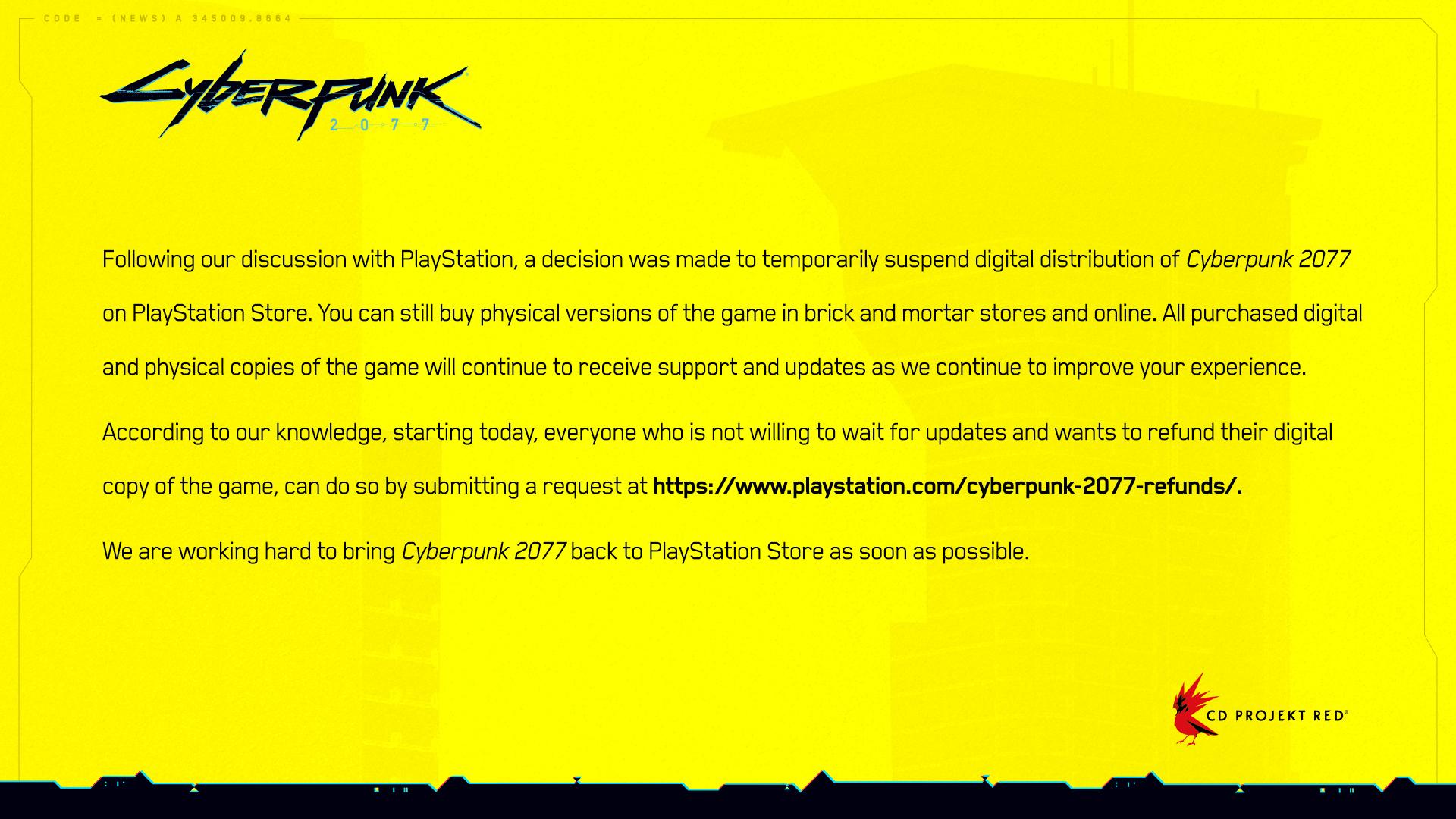 The statement elaborates on the removal of Cyberpunk 2077 and offers somewhat of an explanation for their decision. If you want to request a refund for the PS4 version of Cyberpunk 2077, you can contact Sony support through this dedicated page.
The original article continues below.
The drama surrounding Cyberpunk 2077's last-gen release continues as Sony removes the game from the PlayStation Store. It's now impossible for owners of any PlayStation to purchase Cyberpunk 2077 digitally. Sony also allows refunds for the PlayStation 4 version of the game.




Cyberpunk 2077 removed from PlayStation Store
After a lot of outrage, Sony has now removed Cyberpunk 2077 from the PlayStation Store. The product page is still online, though everything is not so subtly grayed out.
After ongoing complaints about poor performance on last-gen consoles, developer CD Projekt Red apologized. The Polish company offered a refund, no questions asked. Sony now finally accepts Cyberpunk 2077 refund requests through the PlayStation Store.
'For the player'
But for the last couple of days, they've been nothing but uncooperative, detailed by CNBC journalist Steve Kovach below. He wanted a refund, but Sony refused as he already downloaded the game. While Microsoft and Steam at least give you a chance (up to 2 hours) to try a game, Sony requires you to know beforehand if the game works on your console. 'Unless a game is faulty', which is clearly the case with Cyberpunk 2077. Up until today, Sony didn't budge either way..
https://twitter.com/stevekovach/status/1339256379014524928
Microsoft still silent
Anyways, at least Sony came through and now accepts refund requests. The removal of Cyberpunk 2077 out of the PlayStation Store might be a bit overkill, but at least something is happening. Many gamers now shift their crosshairs towards Microsoft.
Some gamers complain were are denied a refund, with no possibility to contest Microsoft's decision. Others did get their money back.
If you're struggling to get a refund for Cyberpunk 2077, you still have a few days to contact CD Projekt Red through helpmerefund@cdprojektred.com. And for all the PlayStation 5 users that wanted to buy Cyberpunk 2077 but are now suddenly unable to, thoughts and prayers!