Streaming on Twitch is easier than ever. You just plop a webcam on your desk, get a headset-mic combo and press 'stream'. That is however not the philosophy of part-time streamer, known in the gaming world as Bushpusherr. He's just finished building his revamped, beefed up, slightly absurd streaming setup. This is what $25,000 looks likes, spread out over 4 PC's, 4 monitors, a mixing panel, two streamer decks, 4 camera's, a piano and a cute little cat basket. And that's just for starters.
Meet Bushpusherr—The guy behind the setup
Looking at the chronicled building process of Twitch streamer Bushpusherr, whose real name is Curtis, we can't help but feel a little bit jealous of his insane setup. We're talking 4 PC's, at least three of which are enough to make an average PC gamer weep. Then there's multiple foot pedals to control his 4 cameras, 4 monitors to keep up with chat, 2 consoles for exclusive games and the odd Super Smash Bros. A.I. betting match (more about that later).
But Curtis didn't just have $25,000 laying around when he decided to overhaul his crazy setup. In an interview with Game Enthusiast, he describes the process as something of a personal quest. "Every time I reconfigure a specific piece of the setup, I eliminate another inconvenience." And that is the essence of the build; eliminating inconvenience.
For example, the foot pedals that we described, give him the opportunity to change the viewing angle and zoom level on the fly, all while he is kicking ass in a competitive shooter. Because as Curtis describes in a humorous way: "I'm pretty good at shootin'. And when I'm in a good round, I wanna stay in the zone.". All with a humble tone of course.
Curtis is your regular down to earth gamer who loves the big jumps in hardware. And as a bachelor with steady income as a software developer, he's poured his money into his passion. As he upgraded parts he saved his old ones, eventually building a second PC. Then two became three. And three is now four. Four glorious PC's.




The Setup
Bushpusherr walked us through each PC and what purpose it has for his setup:
PC One (Gaming)
"PC One is all about gaming. The full focus of this machine is performance so that I can get as close as possible to a stable 240 FPS to match the 240 Hz of this system's only monitor. Nothing but the game is running here while I'm streaming. So I never have to worry about the stream stepping on my frames."
i7-8700K 4.7 GhZ

EVGA GeForce GTX 1080 Ti SC Black Edition Gaming, 11GB GDDR5X

G.SKILL 32GB (4 x 8GB) Ripjaws V Series DDR4 PC4-19200 2400MHz
PC Two (Jimmy)
"PC Two is dedicated to running my homemade software, which I'll be referring to as Jimmy. Jimmy is my Jarvis. He takes in *all* of the video feeds from my capture cards and webcams. Then compiles them together in a virtual 3D environment running in real time. Jimmy is my FX playground and the real magic behind the stream."
i7-7700K 4.5 GhZ
ASUS GeForce GTX 1070 8GB ROG Strix Graphic Card
G.SKILL 32GB (4 x 8GB) Ripjaws V Series DDR4 PC4-25600 3200MHz
PC Three (Stream)
"PC Three handles all of the heavy lifting regarding encoding and uploading to Twitch. Here, I'm running StreamLabs OBS to actually upload the stream, with the only incoming video source being a cropped feed from Jimmy (PC Two)."
i9-9900K 5.0 GHz
EVGA GeForce GTX 1050 Ti SC Gaming, 4GB GDDR5
G.Skill Ripjaws V Series 32GB (4 x 8GB)
PC Four (Misc.)
"PC Four is kind of just a utility machine. Right now I have it running a particle audio visualizer on my TV in the background. As well as compositing a number of webcam feeds into a singular feed to send to Jimmy to lighten the load."
AMD Ryzen 9 3900X
ASUS ROG Strix GeForce RTX 2080 Super
Corsair Vengeance LPX 16GB
Monitors:
We were a little overwhelmed by the monitors at first but once we saw how they flowed together they all made sense. After all, they all serve a purpose.
ASUS ROG Swift PG258Q 24.5" Gaming Monitor Full HD 1080p 1ms 240Hz DP HDMI Eye Care G-SYNC
Dell U3417W FR3PK 34-Inch Screen Led-Lit Monitor
ASUS ROG PG279Q 27″ Gaming Monitor WQHD 1440p IPS 165Hz
Samsung 23.6-Inch Wide Viewing Angle LED Monitor
Audio
"Sound quality is also really important to me. What began as a quest to eliminate mechanical keyboard sounds ended with a level of convenience I hadn't even sought to achieve."
This article could go on for twice as long if we talked in depth about the audio system network that bushpusherr has devised to send and receive audio. But here's what he has to make that happen.
Shure SM7B Cardioid Dynamic Microphone
Audioengine A2+ Powered Desktop Speaker Package
Polk Audio PSW10 10″ Powered Subwoofer
Mackie PROFX8V2 8-Channel Compact Mixer
dbx Multi Effect Processor 266xs
2 ASTRO Gaming MixAmp Pro TR's
Behringer MicroHD HD400 Ultra-Compact 2-Channel Hum Destroyer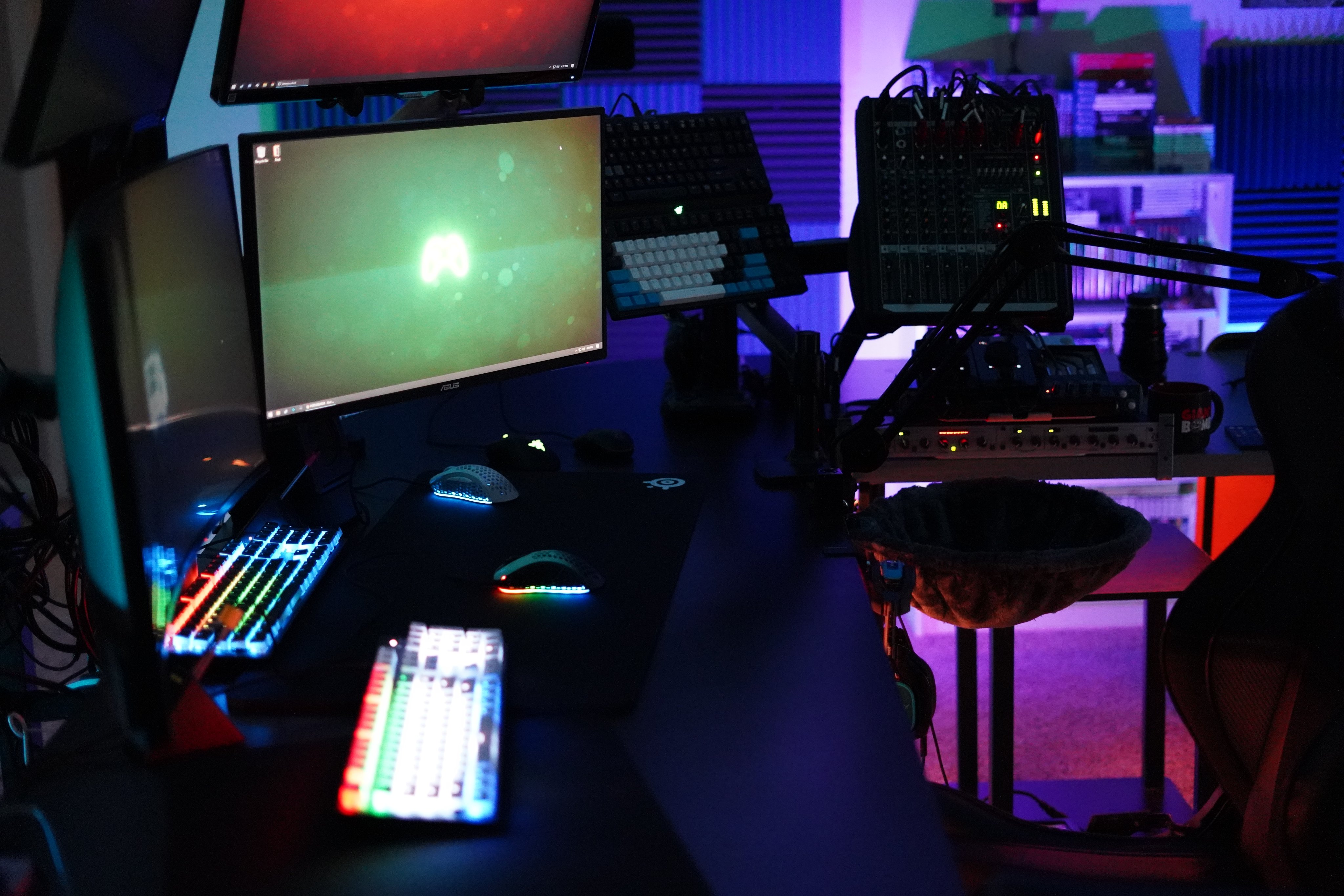 Everything Else:
While we aren't going to list every little item, here's a list of other mentionable items that are integral parts of the setup.
2 Elgato Stream Deck's
Sony Alpha a7iii Mirrorless Digital Camera
Rokinon FE14M-E 14mm F2.8 Ultra Wide Lens
Sony – FE 50mm F1.8 Standard Lens
HTC VIVE Virtual Reality System
Oculus Rift + Touch Virtual Reality System
Logitech C922x Pro Stream Webcam x2
Rokinon CV35-NEX 35mm t/1.5
Chromakey Green Screen Kit Lighting Kit 400 Watt
Elgato Key Light
For more about bushpusherr's amazing setup and stream, check him out over on Twitch or follow him on Twitter for updates.